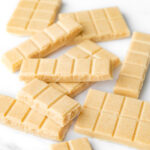 Vegan white chocolate, creamy, smooth, and sweet. Additive-free, it's one of my favorite snacks and requires only 5 ingredients and just 15 minutes!
I really am a chocolate person. I absolutely love its sweetness and smooth and creamy texture, but I don't enjoy all those artificial additives and preservatives. So I decided to make my own vegan white chocolate, and I'm SO excited about it!
It turned out delicious and it quickly has become one of my all-time favorite snacks.
Continue reading Vegan White Chocolate at Simple Vegan Blog.
Comments
comments