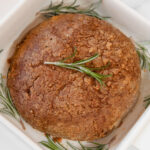 Vegan turkey, an absolutely mind-blowing recipe! One of the most succulent Thanksgiving dishes I've tried, it's so flavorful you're not going to believe it!
When I say this is one of the most delicious, spectacular, and mouthwatering vegan Thanksgiving recipes I've ever made, I PROMISE I'm not lying! When I first tried it, I could not believe how wonderfully tasty it was!
It was SO good I don't think I'll be able to wait until next Thanksgiving to have it again, so I'm going to keep making it to enjoy it all year long.
Continue reading Vegan Turkey at Simple Vegan Blog.
Comments
comments