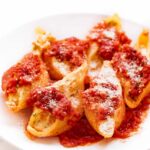 Vegan stuffed shells, an easy and delicious recipe. It's flavorful, filling, comforting, and made with only 5 simple ingredients.
These vegan stuffed shells are my absolute go-to pasta recipe. It is flavorful, creamy, and easy to make, as well as perfect to have for dinner on a daily basis or on a special occasion.
It really is a family favorite and everyone LOVES it, and it is great for making big batches to enjoy all week long!
Continue reading Vegan Stuffed Shells at Simple Vegan Blog.
Comments
comments