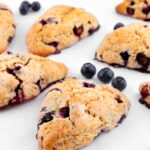 These vegan scones will make your breakfast and brunch a true delicacy. They're soft, crumbly, and extremely satisfying. Delicious!
These vegan scones are simply out of this world. I just can't explain it in any other way! They are soft, fluffy, crumbly, and extremely delicious. A true delicacy!
Freshly baked and served with your favorite toppings, they will become a staple in your kitchen. Everyone will be OBSESSED with them!
Ingredient notes
Unsweetened plant milk: any type of unsweetened non-dairy milk is okay, but soy milk is my favorite one for baking.
Continue reading Vegan Scones at Simple Vegan Blog.
Comments
comments