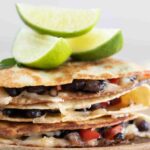 This vegan quesadilla recipe is quick and easy to make, but also so filling, flavorful, and cheesy. Besides, it only requires 10 ingredients!
One thing I love about this vegan quesadilla recipe is that it is 100% customizable with whatever veggies, spices, or any source of plant-based protein you have on hand (like chickpeas, seitan, or tempeh), and it's also perfect to use up leftovers!
If you're looking for quick and easy dinner ideas, this recipe is for you!
Continue reading Vegan Quesadilla at Simple Vegan Blog.
Comments
comments