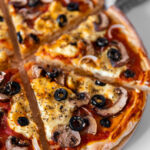 This vegan pizza is absolutely delicious! Simple and easy to make, it only requires 7 affordable ingredients and 30 minutes of your time. It's so flavorful!
Vegan pizza, healthy, affordable, and SO good! I know sometimes it can be hard to find good vegan options when you want to eat pizza, but with this recipe, you won't have to worry about it ever again!
It is made with only 7 ingredients and ready in just 30 minutes.
Continue reading Vegan Pizza at Simple Vegan Blog.
Comments
comments