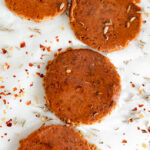 Vegan pepperoni, made with only 9 ingredients. It is deliciously flavorful and smokey and has a great texture. The best pizza topping!
I promise this vegan pepperoni makes the perfect pizza topping! Although it may seem like a really elaborate recipe, it is actually extremely easy to make. Besides, it only requires 9 ingredients!
With this vegan pepperoni recipe, your vegan pizza will taste like heaven. Oh, and I made it with tofu, so it actually contains some good-quality vegan protein.
Continue reading Vegan Pepperoni at Simple Vegan Blog.
Comments
comments