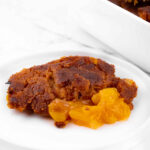 Vegan peach cobbler, decadent, sweet, and the absolute best summer dessert. It is perfect to take to any party you might be attending!
When I tell you this vegan peach cobbler is the best summer dessert, I really mean it! It is so deep in flavor, sweet, and decadent, as well as cozy and delicious. Everyone will ask for seconds!
I love that it is made with fresh juicy peaches (one of my favorite summer fruits) but if you don't have them in hand, feel free to use canned peaches.
Continue reading Vegan Peach Cobbler at Simple Vegan Blog.
Comments
comments