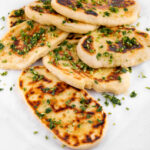 Vegan naan, absolutely delicious and ready with only 7 ingredients. A wonderful side dish to plenty of vegan Indian main courses!
Lately, I've been obsessed with vegan naan. Oh my – it is SO good! It is something that I'd always wanted to try making myself but never ended up doing somehow. However, I do regret it now!
It actually is a dairy-free, simple, and easy-to-make recipe that you can serve as a side dish to plenty of main dishes.
Continue reading Vegan Naan at Simple Vegan Blog.
Comments
comments