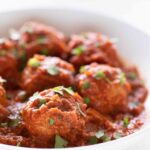 Vegan meatballs, made with 8 ingredients and a delicious homemade marinara sauce. They're gluten-free and so easy to make.
These vegan meatballs will blow your mind. They're SO good! Super flavorful and rich, this recipe sure is a keeper. Besides, they only require 8 ingredients and go so well with the marinara sauce.
It is a pretty simple way of making meatballs and you can incorporate any veggies, spices, herbs, or ingredients you want.
Continue reading Vegan Meatballs at Simple Vegan Blog.
Comments
comments