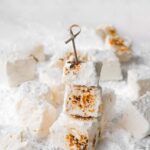 I promise you'll fall in love with these sweet vegan marshmallows! They are super soft, fluffy, and satisfying, and only require 8 ingredients.
I've always been in love with vegan marshmallows. Since I'm from Spain, I would eat them plain as a treat, but when I discovered that you can actually eat them with a cup of vegan hot chocolate or roast them over a campfire… A whole new world opened for me!
Continue reading Vegan Marshmallows at Simple Vegan Blog.
Comments
comments