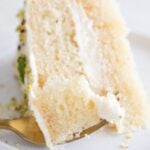 Vegan lemon cake, zesty, fluffy, and absolutely out of this world. It tastes so fresh and rich it'll become your weekly treat!
This vegan lemon cake seems to have been specifically created to be enjoyed on a summer evening. It is SO good, sweet, and fresh! I still can't get over how much I adored it. So worth-trying!
It is zesty and rich, as well as soft and fluffy. This cake is the perfect original treat to serve to your guests or take to any event you might be attending.
Continue reading Vegan Lemon Cake at Simple Vegan Blog.
Comments
comments