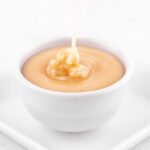 Vegan icing, extremely easy and made with only 3 ingredients in 5 minutes. It is perfect for vegan scones, muffins, and even bread pudding!
This vegan icing will become your go-to icing recipe. It is easily made with only 3 simple ingredients and ready in just 5 minutes!
You can use it to make plenty of different desserts, but it will sure work perfectly well with cakes, muffins, and more. Please try it and let me know what you think!
Continue reading Vegan Icing at Simple Vegan Blog.
Comments
comments