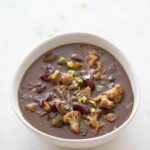 This vegan gumbo is made with a rich dark vegan roux, plant-based protein, and lots of veggies. Serve with rice for a delicious, hearty meal!
I'm a huge fan of pretty much any Louisiana-inspired dish, like our popular vegan jambalaya, or this vegan beans and rice recipe, so I had to make my own vegan gumbo, and boy, it turned out extremely delicious!
It's made with a quick but tasty vegan roux, ready in less than 20 minutes (which is not that long for a roux), kidney beans as the source of plant-based protein (although any other type of protein will do), and loads of fresh veggies, included the Holy Trinity (onion, celery, and green bell pepper).
Continue reading Vegan Gumbo at Simple Vegan Blog.
Comments
comments