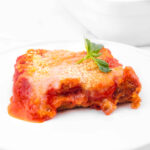 Vegan eggplant Parmesan, cozy and crisp. The best combination of flavors in just one plate. Conveniently baked instead of fried!
This wonderful vegan eggplant Parmesan is one of those recipes that you can serve on absolutely any occasion. It's easy to make and packed with deliciousness.
Crisp on the outside and soft on the inside, this casserole dish is so hearty and comforting. Enjoy it like lasagna or serve it over some pasta.
Continue reading Vegan Eggplant Parmesan at Simple Vegan Blog.
Comments
comments