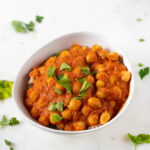 Vegan chana masala, an Indian recipe full of flavor. Delicious and comforting, it's ready in less than 30 minutes and packed with protein!
Vegan chana masala is a delicious plant-based dish. It's simple, easy to make, and ready in less than 30 minutes, and you can customize it to taste too. It's gluten-free and originally made with chickpeas, but you could also use what you already have at home.
This vegan chana masala recipe is one of the easiest Indian dishes I've ever made.
Continue reading Vegan Chana Masala at Simple Vegan Blog.
Comments
comments