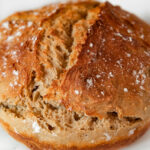 Vegan bread, natural, non-processed, and super flavorful. It's crunchy on the outside, soft and chewy on the inside, and made with only 4 ingredients.
I absolutely love making my own vegan bread at home! It is delicious, flavorful, and satisfying, as well as crunchy and chewy at the same time. It really is super easy to make!
Although you have access to a wide variety of bread at any grocery store, most of it is usually super processed and contains lots of additives and preservatives.
Continue reading Vegan Bread at Simple Vegan Blog.
Comments
comments