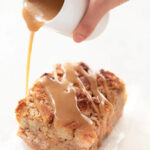 Vegan bread pudding, a delicious dessert, so easy to make, and only requires 7 simple ingredients. It's perfectly served with sugar glaze!
Vegan bread pudding is a great and easy way of using up your leftover or stale bread. That way you don't have to throw it out! I know it's usually eaten as a dessert, but I like it so much I enjoy it for breakfast or brunch once in a while.
Continue reading Vegan Bread Pudding at Simple Vegan Blog.
Comments
comments