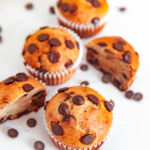 Vegan banana muffins, so fluffy and delicious. I absolutely love to have them for breakfast or as a snack, and they're ready in 30 minutes.
I absolutely love baking. And now that the cold it's been here for a while, I look so forward to the smell and the warm atmosphere of my kitchen anytime I do!
This banana muffin recipe is one of my all-time favorites because it's easy to make and requires affordable ingredients that you probably already have in your pantry.
Continue reading Vegan Banana Muffins at Simple Vegan Blog.
Comments
comments