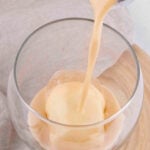 This vegan Baileys is healthier and creamier than the original. You won't tell the difference! Ready in 5 minutes with 5 ingredients.
I hardly ever drink alcohol, but when I do, Baileys is one of my favorite options. That's why I'm in love with this vegan Baileys, and it's SO good I want to share the recipe with you. Feel free to enjoy it on Saint Patrick's Day!
Besides, this dairy-free and lactose-free recipe tastes even better than the original one and is 100% plant-based.
Continue reading Vegan Baileys at Simple Vegan Blog.
Comments
comments