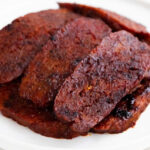 Vegan bacon, so crispy and delicious. It's tasty, has the perfect texture, and its smoky flavor reminds you of the real thing!
This vegan bacon is a life-saver. Bacon is maybe one of the most difficult foods to give up when you go on a vegan diet. It's so versatile you can eat it with pretty much everything and it's also a very important part of the weekend family breakfasts.
I've made a vegan version because it's usually hard to find a store-bought bacon substitute that tastes good and that's not full of additives and preservatives.
Continue reading Vegan Bacon at Simple Vegan Blog.
Comments
comments