What do you get when you mix caprese salad and pasta salad? This Avocado Caprese Pasta Salad! It's creamy, flavorful and completely vegan!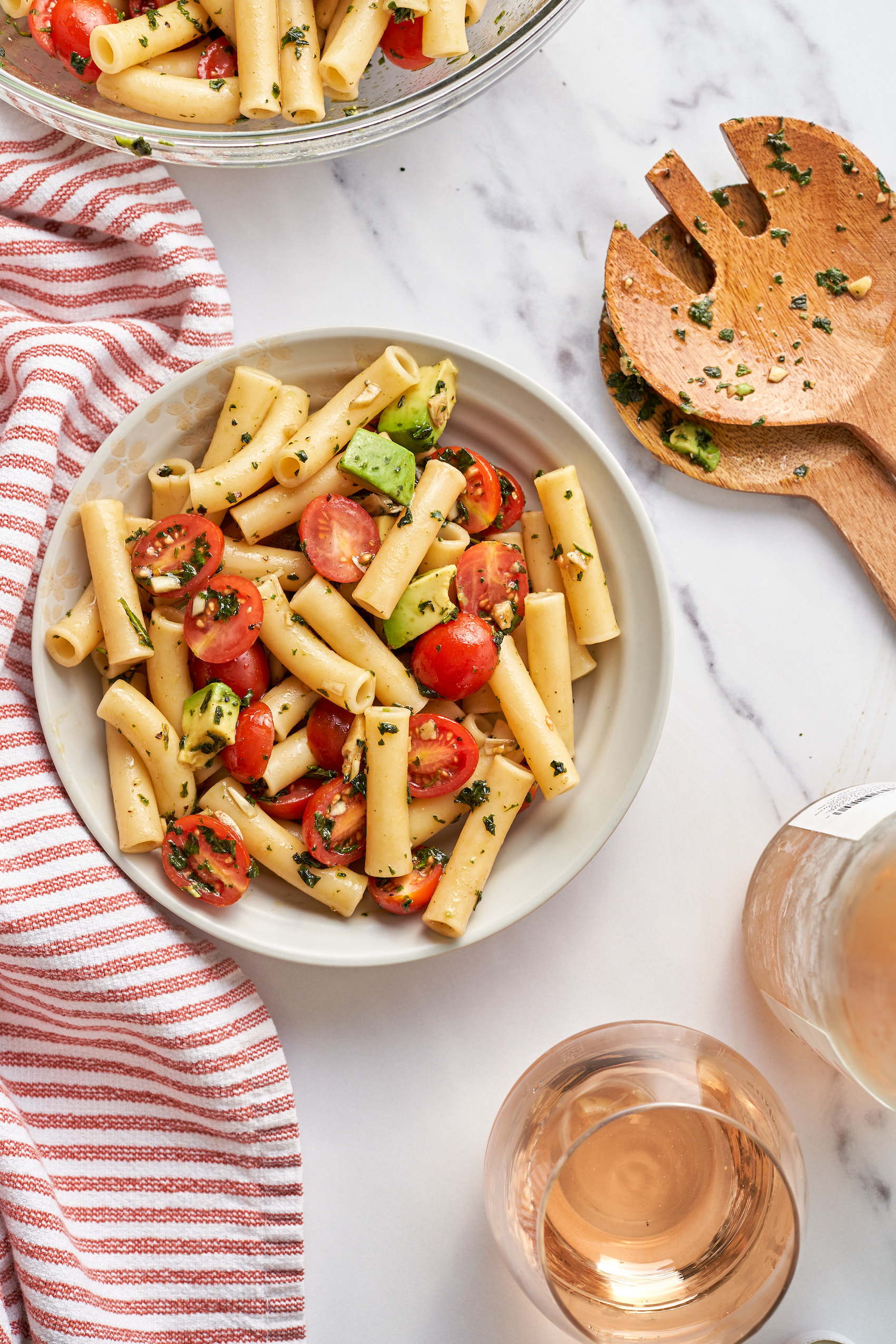 Vegan Avocado Caprese Pasta Salad
Today's post is dedicated to my mom – cue the 'awwwwwwhs'. When I asked her for a recipe idea that was just for her, all she said was, "Pasta, with a simple tomato sauce."
I couldn't post something that simple, so this is my interpretation of what she wanted. Hope you're hungry, Mom, because I'm making a big batch of this Caprese pasta salad for you!
My love of health, sustainability and cooking started with my mom, and that is something I am extremely thankful for today. We recycled everything we could, installed solar panels, grew our own gardens, and never bought plastic water bottles. She has tattoos of a recycling symbol and a tree of life. We had a homemade dinner every night or, at the least, made sure we had leftovers. I also got my love of leftovers from her.

Pasta is one of my mom's favorite foods, so I always think of her when I make it. With that said, in honor of my mom, I'm sharing this Avocado Caprese Pasta Salad today! It's perfect for busy nights, perfect for summer, and perfect for sharing with your mom!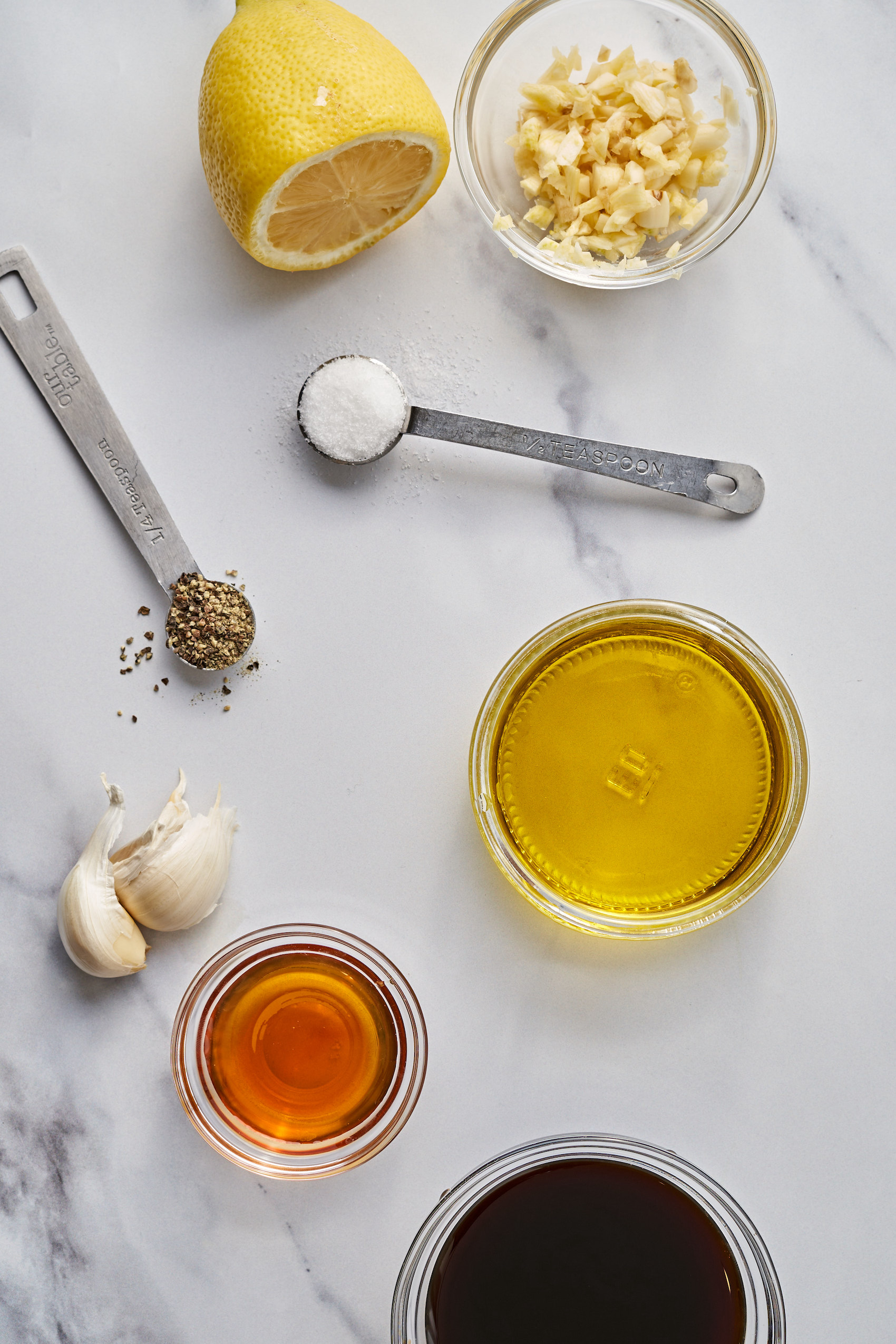 Ingredients for Avocado Caprese Pasta Salad
One of my favorite things about pasta salad is that it's just about as simple as it gets. And as if pasta salad wasn't simple enough, we're keeping things extra simple today with just a handful of fresh ingredients.
Traditional Caprese salads consist of tomatoes, mozzarella, and balsamic vinegar, but we're replacing the cheese with creamy avocado! It's a great substitute to add a punch of healthy fats in place of the dairy if you're vegan.
Pasta. I went with brown rice pasta from Trader Joe's, but you can use any kind of pasta in any shape.
Tomatoes. I'm using cherry tomatoes because they add the perfect pop of flavor!
Basil. Dried is not going to have the same effect, so make sure to pick up fresh basil!
Avocado. We're using this instead of mozzarella, which would be traditional for a caprese salad recipe.
Balsamic vinegar. Balsamic will add that classic tang to the dressing that we're looking for.
Olive oil. To make our dressing super luscious.
Garlic. I'm using three fresh cloves. You can always use more or less based on your preference.
Lemon. A squeeze of fresh lemon adds all the bright acidity you want in a pasta salad.
Sweetener. Either maple syrup or agave nectar work well here.
Salt and pepper. Of course!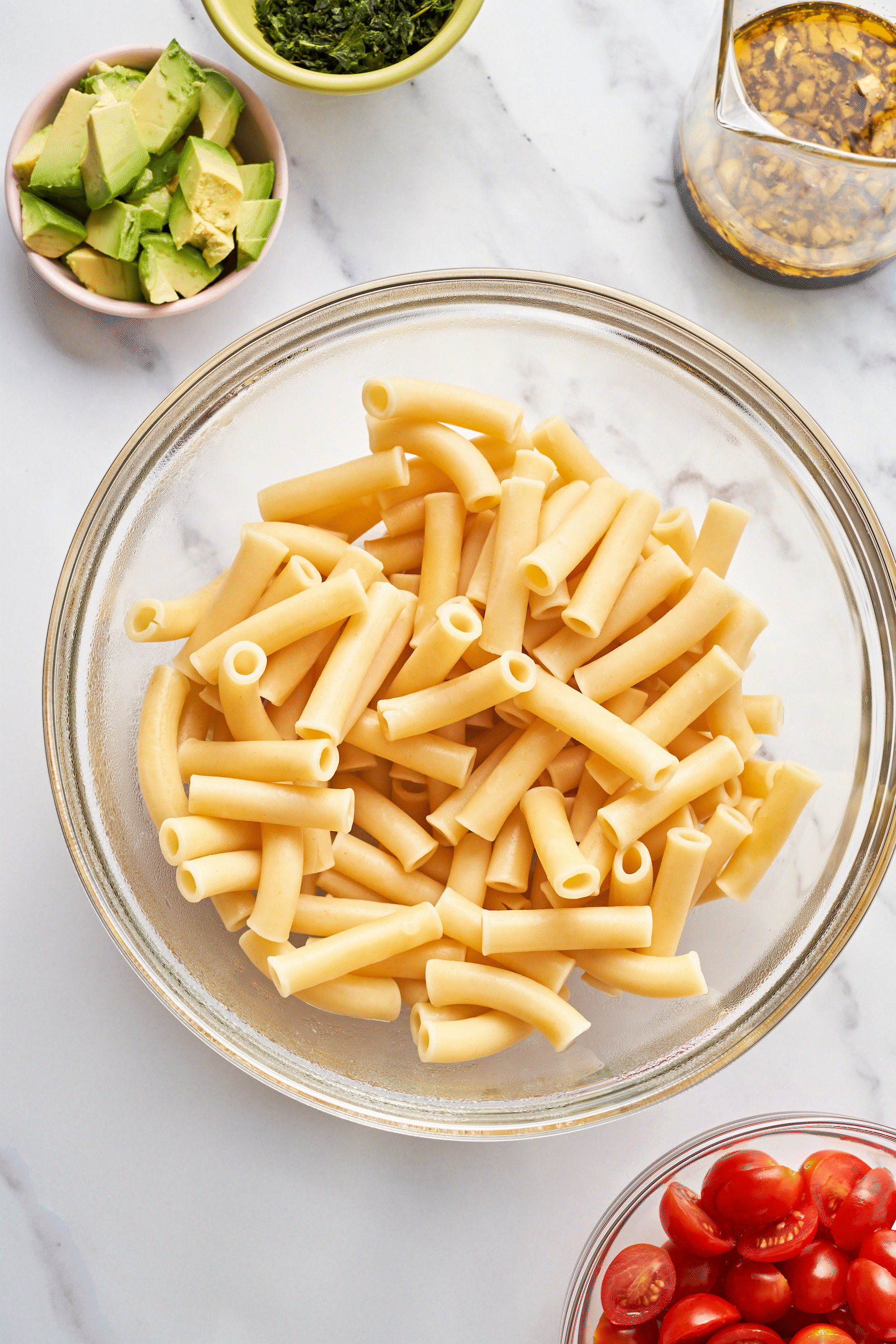 How to Make Caprese Pasta Salad
This recipe takes just under 30 minutes to throw together, making it the perfect busy weeknight dinner that packs beautifully for lunch the next day.
This is the perfect dish to take advantage of all the fresh summer produce popping up! Fresh basil and juicy tomatoes are so yummy in the summer, especially straight from the farmer's market. My mom has basil in her garden, so she'll be able to make this with her homegrown basil.
Cook your pasta according to package directions, strain it and add it to a bowl
Chop up the tomatoes, basil and avocado, then add to your bowl of pasta and stir until combined
Make the dressing in a small bowl by mixing balsamic vinegar, oil, garlic, lemon juice, maple syrup, salt, and pepper.
Pour the dressing over your pasta salad and mix everything up!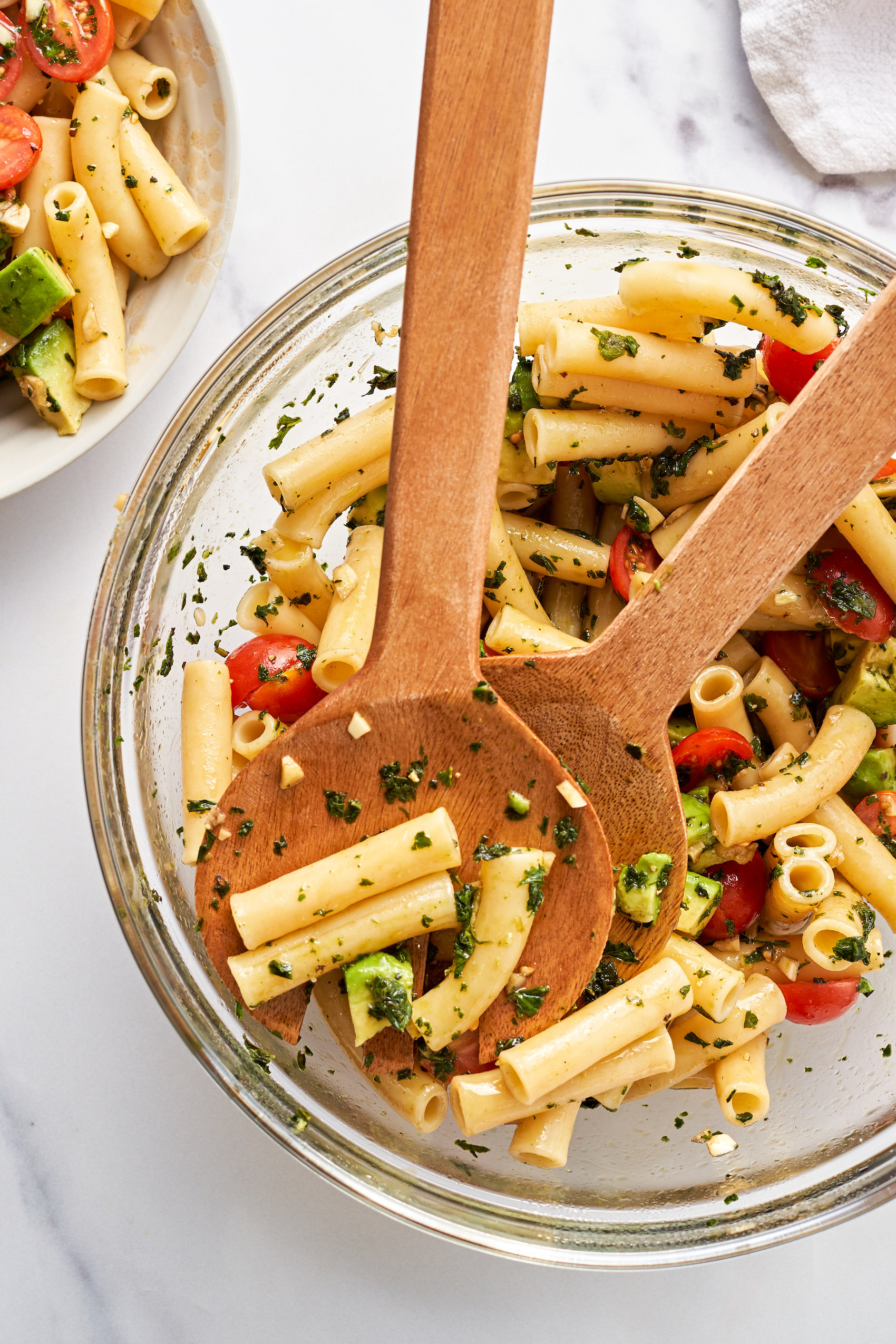 How to Serve this Avocado Caprese Pasta Salad
A huge bowl of this Caprese pasta salad would be the perfect addition to your next summer party! Mmmm, veggie burgers, pasta salad, juicy fruit….I'm drooling. This is definitely a dish that even non-vegans would enjoy – it's filling, but light, and full of classic Caprese salad flavors!
I like to serve it cold as an entree, but sometimes I'll also use it as a side with my meal. It holds up incredibly well all week long in the refrigerator, so you could totally use it as a vegan meal prep recipe for easy lunches for days!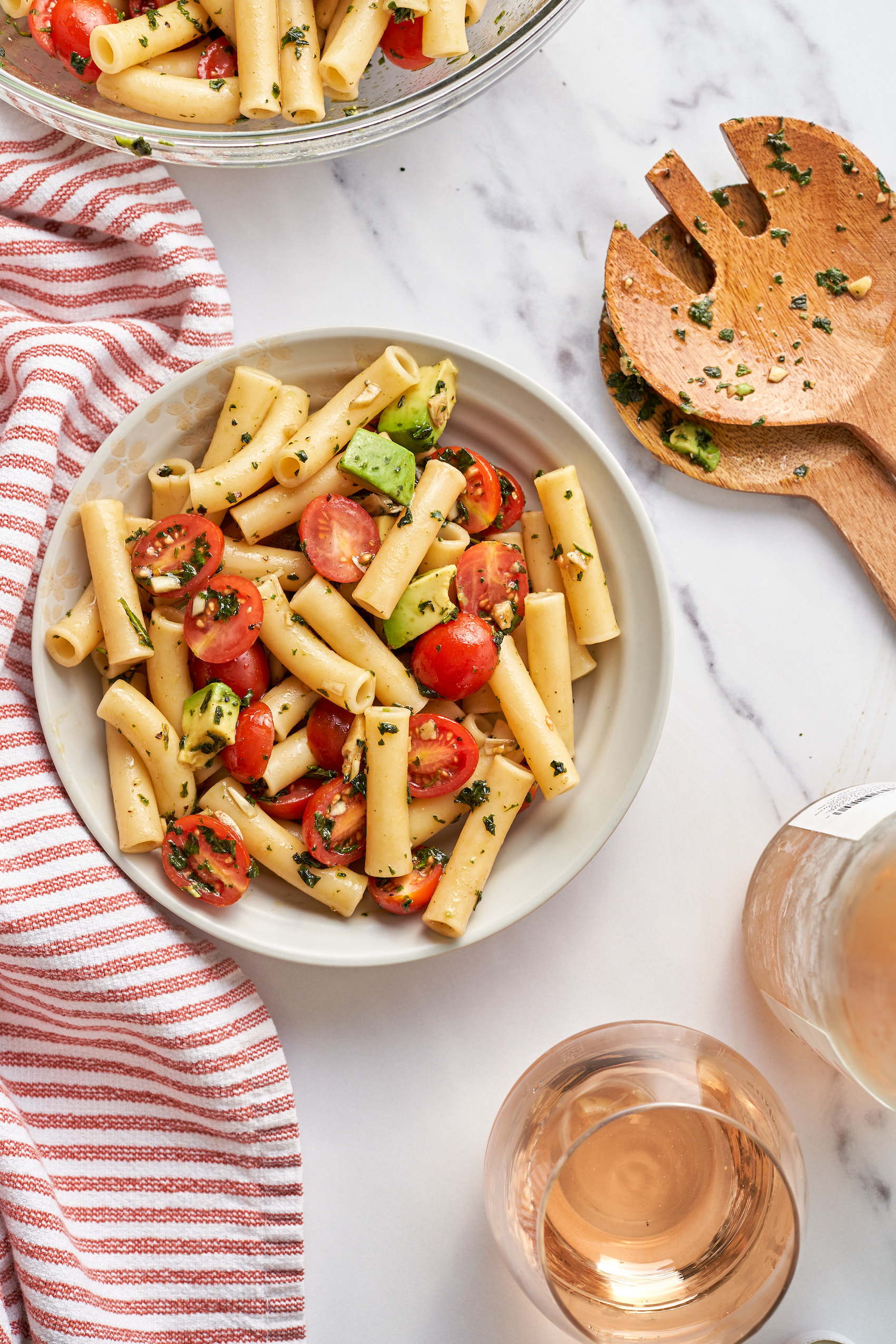 Tips for Making The Best Vegan Pasta Salad
Pasta salad is pretty simple to make and I'm sure you don't need me to walk you through it step by step, but I do have a few tips for you to ensure it turns out perfectly every single time you make a batch!
Salt your pasta water. Have you ever had a pasta salad before that just tasted super bland? Salting your pasta water is key! As the pasta cooks, it will absorb the salt and taste 10000x better.
Let your pasta cool completely. We're loading this pasta salad up with plenty of fresh ingredients, and adding them to hot pasta will just cause the basil to wilt and the tomatoes to loose their juicy pop. Let your pasta cool down entirely before mixing in the rest of the ingredients.
Use fresh ingredients. The ingredients for this caprese pasta salad are pretty minimal, so you'll want to make sure everything is fresh! Bottled lemon juice and dried basil aren't going to have the same effect here.
Mix your dressing in a jar. Sometimes I get frustrated trying to whisk up a vinaigrette. It feels like no matter how long I whisk it for, sometimes the oil and vinegar just don't want to come together. Instead, try tossing all of your ingredients into a small jar and giving it a good shake to make your dressing! It'll emulsify perfectly every time!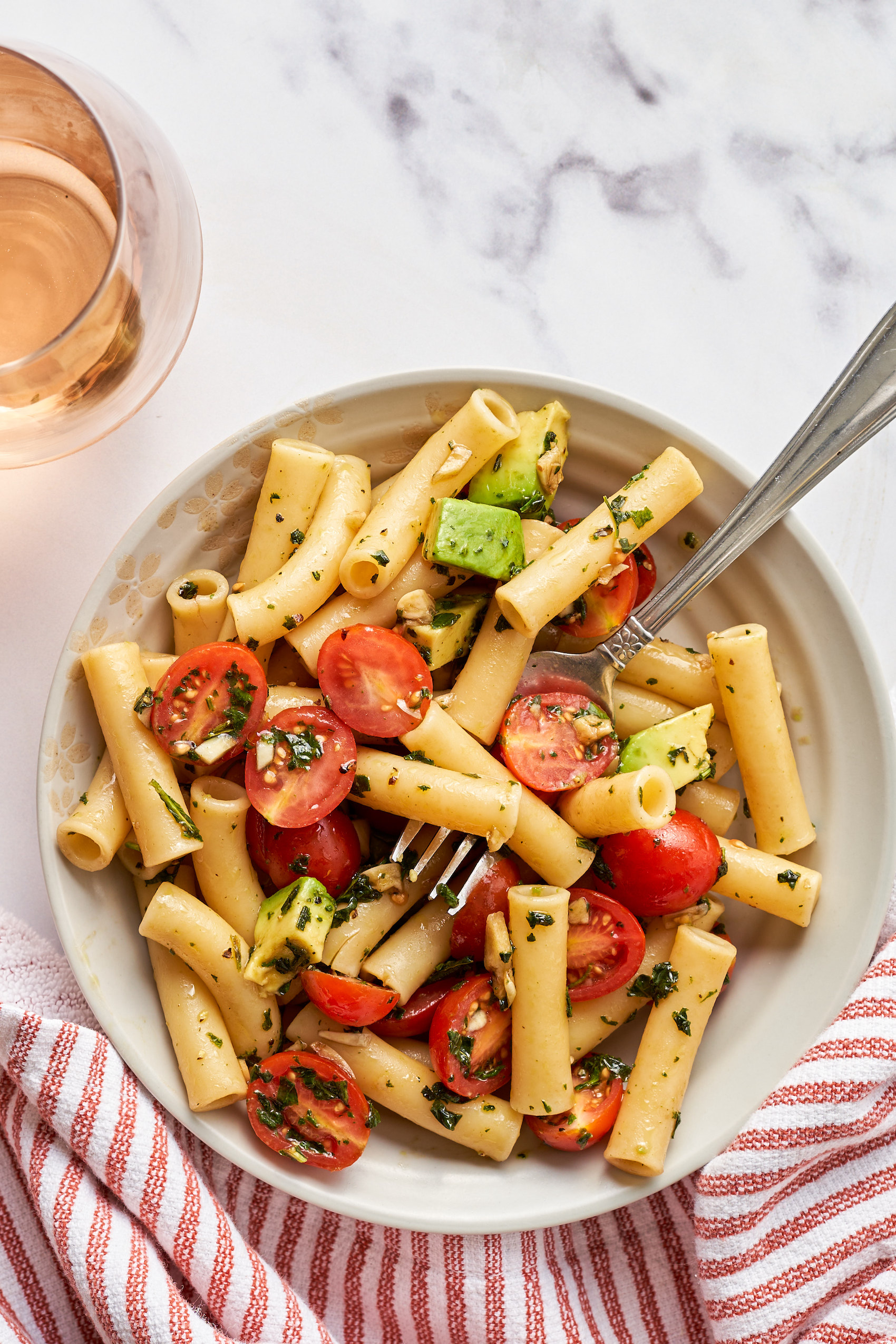 More Vegan Pasta Salad Recipes
I feel like pasta salad and summer are synonyms – right? It's a go-to meal for me in the summer when it's hot and you really just want to eat something cold, yet still satisfying. I love pasta salads that are inspired by Italian flavors, but there are so many ways to get creative with it! If you're looking for more vegan pasta salad recipes, try out some of these other ideas!
Vegan Pasta Salad with Homemade Dairy-Free Ranch
Vegan Mexican Pasta Salad with Spicy Cashew Cream
Italian Vegan Pasta Salad
Vegan Curried Pasta Salad
Vegan Caesar Pasta Salad with Chickpeas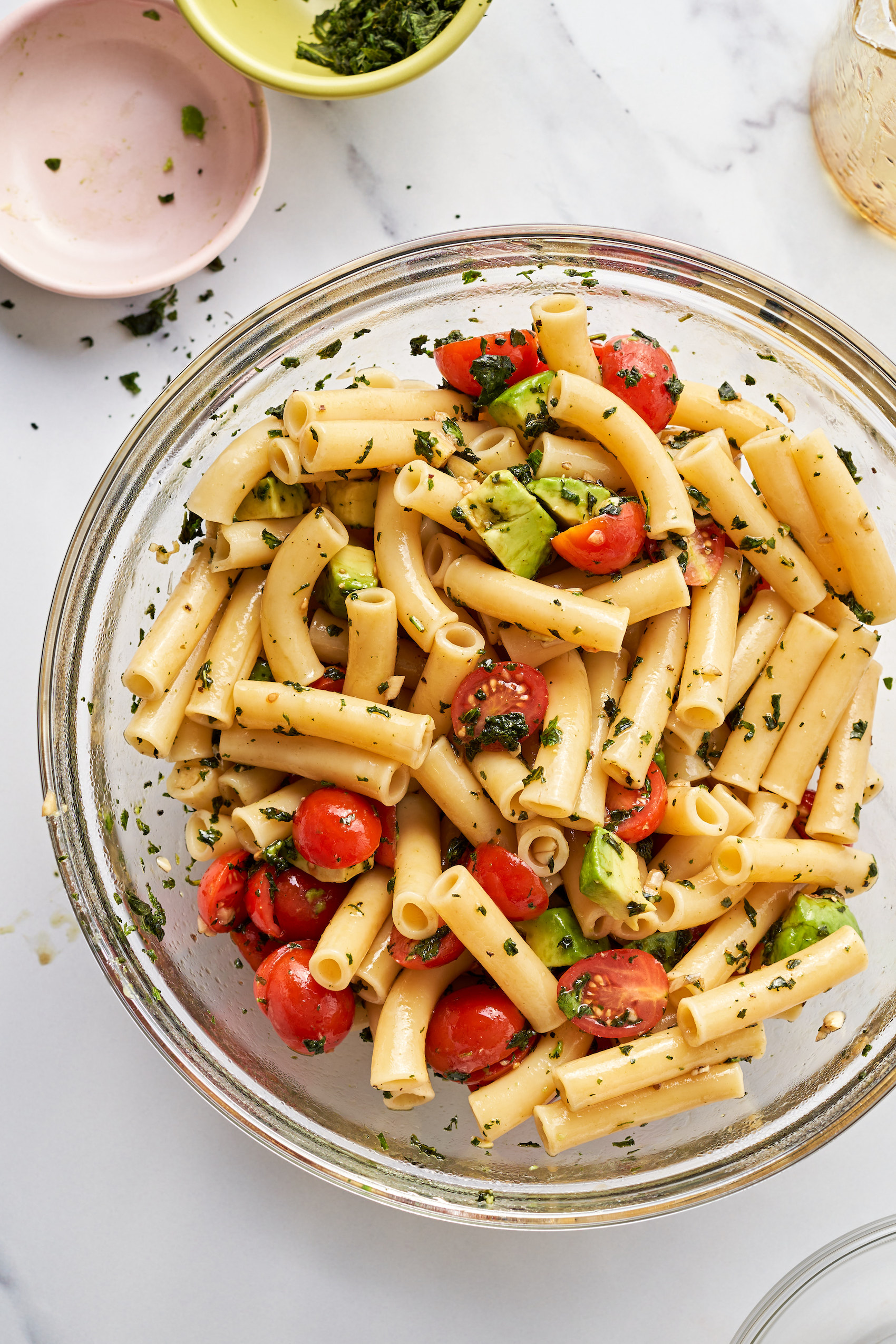 Print
How to make:
Vegan Avocado Caprese Pasta Salad
What do you get when you mix caprese salad and pasta salad? This Avocado Caprese Pasta Salad! It's creamy, flavorful and completely vegan!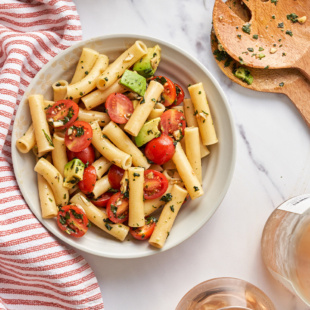 Ingredients
1

16-ounce bag pasta

1

8-ounce pint cherry tomatoes, halved (about

1 1/2 cups

)

1 cup

fresh basil, chopped

1

avocado, chopped

1/4 cup

balsamic vinegar

2 tablespoons

olive oil

3

cloves garlic, minced (about

1 tablespoon

)

1 tablespoon

fresh lemon juice

1 teaspoon

maple syrup or agave nectar (optional)

1/2 teaspoon

salt

1/4 teaspoon

pepper
Instructions
Cook pasta according to package directions. Drain; place in a large bowl.
Add tomatoes, basil and avocado. Stir until the ingredients are evenly mixed.
In a small bowl, whisk together balsamic vinegar, oil, garlic, lemon juice, maple syrup, salt, and pepper. Pour onto the pasta; stir to combine.
381
5.4 g
205.1 mg
9.4 g
1.4 g
63.3 g
4.5 g
10.9 g
0 mg
The post Vegan Avocado Caprese Pasta Salad appeared first on Emilie Eats.
Comments
comments