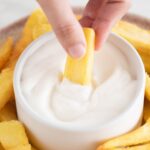 This vegan aioli is made with 5 ingredients in less than 5 minutes. Perfect as a dip for fries or veggies, but also as a dressing or spread.
Aioli is probably my all-time favorite sauce. I could eat it with pretty much everything savory. I grew up eating this Mediterranean sauce, and this vegan aioli is my new obsession!
Although the classic recipe is vegan, made with extra virgin olive oil and garlic, the most popular version is not, as it's made with eggs.
Continue reading Vegan Aioli at Simple Vegan Blog.
Comments
comments