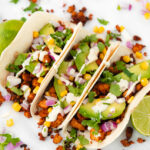 Tofu tacos, a super flavorful and convenient recipe. An easy meal you can have for lunch or dinner that's only made with healthy and nutritious ingredients!
These tofu tacos are a great way to eat healthier and 100% vegan food! They are really easy to prepare and super affordable, and they also contain good-quality vegan protein. My favorite vegan tacos!
To make them you need common ingredients you probably already have in your pantry, such as soy sauce, tofu, avocado, onions… But the best part is that you can customize them with your favorite spices.
Continue reading Tofu Tacos at Simple Vegan Blog.
Comments
comments