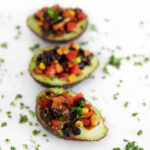 These 7-ingredient stuffed avocados are a light, easy, and extremely flavorful appetizer. Delicious and ready in just 10 minutes!
Do you know how I absolutely love no-cook recipes? And when they're extremely easy yet flavorful, healthy, and nutritious, I ADORE them even more. Full of creaminess and low-carb, I just can't get over these stuffed avocados. They taste so good!
They're a great and simple way of incorporating more greens into your diet and you can actually make them in just 10 minutes.
Continue reading Stuffed Avocados at Simple Vegan Blog.
Comments
comments