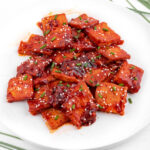 Spicy tofu, a Korean-style flavorful dish. It is so delicious and easily made with 5 ingredients. I love to serve it with rice and veggies.
I absolutely love Korean cuisine. It is so rich and deep in flavor! But although some dishes are inherently vegan, some others contain animal-derived ingredients. That's why I decided to make this wonderful spicy tofu… And it is so delicious!
Made with only 5 ingredients (gochujang among them, you'll easily find it through this affiliate link), it'll become a staple on your table.
Continue reading Spicy Tofu at Simple Vegan Blog.
Comments
comments