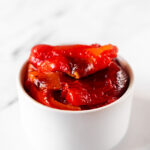 Roasted red peppers, a must-have recipe in your kitchen. It is super easy, healthy, tasty, and delicious, and it only requires 1 ingredient!
I promise these roasted red peppers are the easiest recipe you'll ever make! I personally love it, as it is super flavorful, nutritious, and easy to prepare. Really convenient if you don't know how to incorporate this delicious veggie into your diet!
These peppers are super versatile and you can use them in plenty of different dishes, such as sandwiches or salads.
Continue reading Roasted Red Peppers at Simple Vegan Blog.
Comments
comments