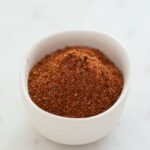 This Old Bay seasoning recipe is made with just 7 ingredients, in less than 2 minutes and is a great substitute for the original blend.
Whether you can't find it in your area, or you want to make your own spice blend at home, this Old Bay seasoning recipe is for you! It's made with only 7 ingredients you probably already have at home, and all you need to do is combine them in a bowl or jar.
Continue reading Old Bay Seasoning Recipe at Simple Vegan Blog.
Comments
comments