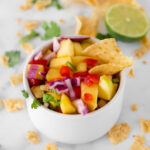 Mango salsa, fruity, fresh, and with a wonderful contrast of flavors. Ready with 7 ingredients in 10 minutes, it's delicious and one of the easiest recipes!
Mango salsa is one of my favorite summer recipes ever. Although you can actually make it at any time of the year, I absolutely love to have it during summer, because it is so refreshing, easy, and simple!
It is actually made with only 7 ingredients in just 10 minutes.
Continue reading Mango Salsa at Simple Vegan Blog.
Comments
comments