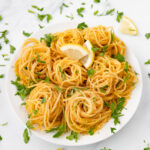 Lemon pasta, one of the best vegan pasta recipes you'll ever try. It is comforting, flavorful, and satisfying, and requires 10 ingredients and 15 minutes!
I believe lemon pasta is a special dish. Who would have thought lemon and pasta would work so well on the same plate? Well, it has been proved that they do, and that's why I decided that I wanted to learn how to make lemon pasta. Surely one of the most delicious vegan pasta recipes!
Continue reading Lemon Pasta at Simple Vegan Blog.
Comments
comments