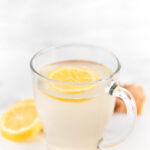 Lemon ginger tea, a super comforting drink. It's extremely easy to make, as it requires only 4 ingredients and 10 minutes. It'll boost your immune system!
Did you know that lemon ginger tea is one of the healthiest and most beneficial drinks you can have? It is actually super tasty and extremely easy to prepare because it only requires 4 simple ingredients and it's ready in just 10 minutes.
Besides, this lemon and ginger tea is super comforting and you can have it warm or cold (I love to have it warm!).
Continue reading Lemon Ginger Tea at Simple Vegan Blog.
Comments
comments