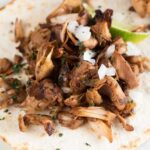 These vegan jackfruit carnitas are so juicy, crispy, and full of flavor. A delicious filling for tacos, burritos, enchiladas, or quesadillas.
Jackfruit has become one of my favorite plant-based alternatives to meat, especially in making some recipes, like jackfruit tacos, jackfruit pulled pork, these vegan jackfruit carnitas, or pretty much any Mexican-inspired dish.
Carnitas is a dish of Mexican cuisine that literally means "little meats" in Spanish. It's really similar to pulled pork and is typically served with chopped cilantro, diced onion, salsa, guacamole, tortillas, and refried beans.
Continue reading Jackfruit Carnitas at Simple Vegan Blog.
Comments
comments