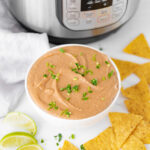 Instant Pot refried beans, easy, creamy, and super flavorful. They have a wonderfully thick texture and are made with only a few ingredients.
Instant Pot refried beans, a delicious Mexican recipe that makes a perfect appetizer or side dish. Easily made with only 9 simple ingredients, you WILL cook it every week!
Besides, you won't believe how rich and flavorful this dish is. Comforting, satisfying, and packed with vegetable protein, it truly is a gem!
Continue reading Instant Pot Refried Beans at Simple Vegan Blog.
Comments
comments