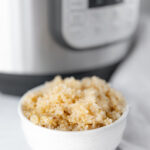 Making Instant Pot quinoa only takes 20 minutes and 2 ingredients! Quinoa is a gluten-free superfood high in fiber and protein.
Have you ever made Instant Pot quinoa? If not, you're lucky – because this is the best tutorial you'll find! With simple and easy instructions, you'll learn how to use your Instant Pot to make it in no time.
It is actually ready with just 2 simple and affordable ingredients and it only takes 20 minutes.
Continue reading Instant Pot Quinoa at Simple Vegan Blog.
Comments
comments