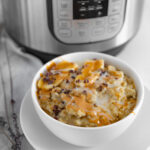 Instant Pot oatmeal, my most favorite vegan breakfast recipe. It's made with 2 ingredients and you can add your preferred toppings!
Ah! Isn't oatmeal one of the best vegan breakfast recipes ever? To me, it sure is! It's so cozy and easy to make, as well as nutritious and cholesterol and dairy-free. What do you think?
I love to make it on the weekends and take my time choosing my favorite toppings.
Continue reading Instant Pot Oatmeal at Simple Vegan Blog.
Comments
comments