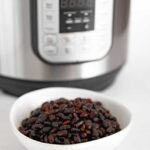 Instant Pot black beans, an easy way of cooking black beans. They are high in protein and an affordable and nutritious ingredient.
Making Instant Pot black beans is extremely easy. They turn out perfect every time and are a nutritious and affordable ingredient that's high in potassium and good-quality vegan protein.
The best part about it is that you can incorporate it into plenty of different recipes and can season it with your favorite spices or herbs to taste.
Continue reading Instant Pot Black Beans at Simple Vegan Blog.
Comments
comments