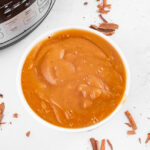 Instant Pot applesauce, an easy way of making this delicious dessert. It is ready in just 30 minutes with only 6 ingredients!
Making Instant Pot applesauce is one of the easiest things ever. It is a quick and gluten-free recipe that you can freeze so it lasts longer. Ready in just 30 minutes!
Besides, it only requires 6 ingredients and, although I love it just as it is, you can customize it with your favorite spices.
Continue reading Instant Pot Applesauce at Simple Vegan Blog.
Comments
comments