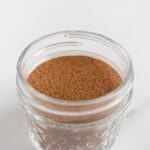 Pumpkin pie spice, super flavorful, affordable, and easy to prepare. To make it you only need 5 ingredients and just 5 minutes!
This wonderful pumpkin pie spice will totally save your holidays! Thanksgiving can get very hectic, as there's a lot of food that needs to be cooked and a lot of people around, so it's always a good idea to prepare some things in advance.
As for Thanksgiving recipes, there's plenty of different options you can use it for.
Continue reading How To Make Pumpkin Pie Spice at Simple Vegan Blog.
Comments
comments