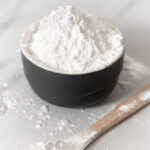 Learn how to make powdered sugar in 1 easy step. It's so sweet, light, and fluffy, and it's made with only 2 ingredients in just 2 minutes!
Have you ever wondered how to make powdered sugar? I always used to buy it from the grocery store, as I wasn't sure if I would be able to prepare it myself. Turns out it is SO easy I still can't believe it!
Powdered sugar is simply ground granulated sugar with a little bit of cornstarch.
Continue reading How To Make Powdered Sugar at Simple Vegan Blog.
Comments
comments