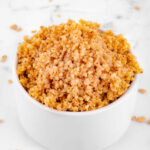 Learn how to cook millet in 4 simple steps with this easy tutorial. Only 3 affordable ingredients and less than 30 minutes required!
This easy tutorial will have you cooking millet for the whole week! Super simple and with only 3 affordable ingredients required, learn how to cook millet and get it ready in less than 30 minutes.
The best part about this healthy and rich-in-fiber cereal is that it can be served with absolutely any ingredient that you can think of.
Continue reading How To Cook Millet at Simple Vegan Blog.
Comments
comments