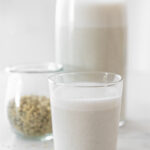 Hemp milk, vegan, creamy, and fresh. It is really good-tasting and one of the easiest recipes to make, as it only requires 2 ingredients and 5 minutes!
Hemp milk is a great alternative to cow's milk. Creamy, simple, and nutritious, it is high in minerals and healthy fats, as well as low in calories. It is my first time trying it and I can't get over the fact that it is absolutely delicious!
Continue reading Hemp Milk at Simple Vegan Blog.
Comments
comments