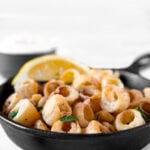 Hearts of palm calamari, a completely vegan recipe that will blow your mind! It has a fishy flavor and is made with only 8 ingredients in just 20 minutes.
I couldn't believe it when I first tried these hearts of palm calamari. Their flavor is so close to the original recipe I really thought I was eating calamari! However, it is a completely vegan recipe, so rest assured you'll enjoy a 100% cruelty-free meal!
Continue reading Hearts of Palm Calamari at Simple Vegan Blog.
Comments
comments