Amp up taco night with Grilled Portobello Mushroom Tacos! These vegan mushroom tacos are filled with grilled portobello mushrooms, corn and peppers and packed with flavor – plus they gluten-free. Made in partnership with Pompeian!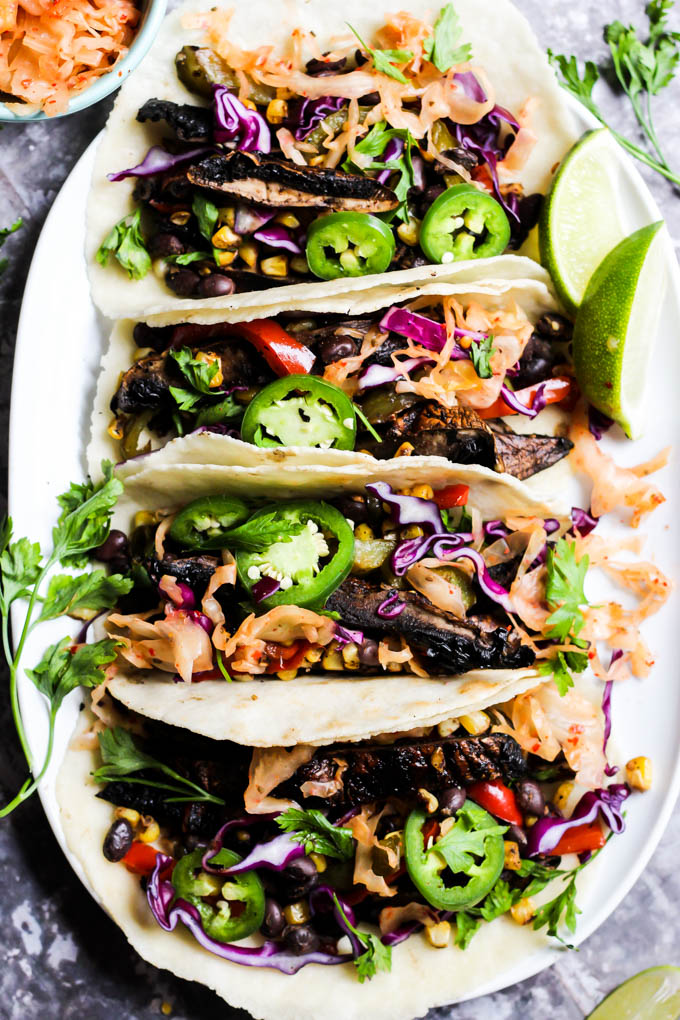 Grilled Portobello Mushroom Tacos
There are so many things to love about summer. When the weather finally starts getting consistently warm again, I want to spend all of my time outdoors. And that means grilling!
I'm beyond excited for you to try these tacos because 1. look at all those colors! and 2. summer is made for grilling. Seriously, what is summer without cracking open the grill and cooking up some veggie burgers?
These vegan mushroom tacos pack in a ton of delicious charred flavor from grilled portobello mushrooms, grilled corn on the cob and grilled red bell peppers. Triple the grilling action! But, if you're like me and you don't have a fancy grill, no worries! You can totally make these indoors and still replicate the flavors you'd get from a grill.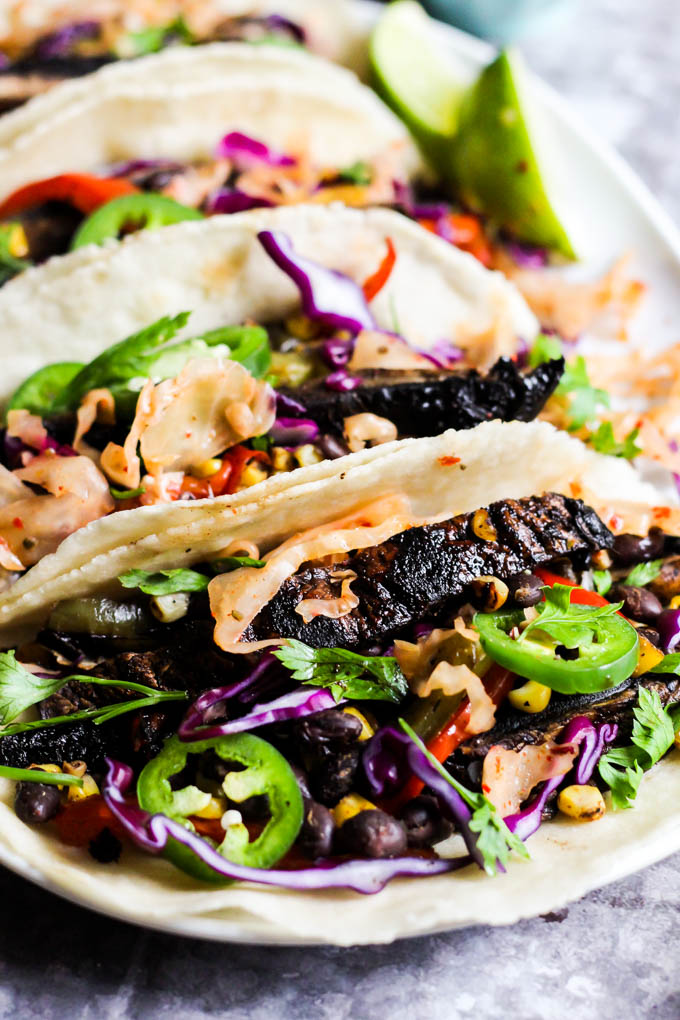 Ingredients for Grilled Mushroom Tacos
For the rest of the filling, I used grilled corn, bell peppers and black beans, but you can use any other vegetables you want to grill! Think zucchini, asparagus, sweet potatoes, etc.
Pompeian Organic Balsamic Vinegar. These vegan mushroom tacos get most of their flavor from our marinade, which starts with balsamic vinegar.
Limes. We'll be using these in our marinade and for serving.
Spices. Our spice blend will include chili powder, ground cumin, garlic powder, smoked paprika, salt and black pepper.
Portobello mushroom caps. We can't make grilled portobello mushroom tacos without portobello caps! Look for full caps at the store instead of pre-sliced if you can. The full cap will be much easier to grill than slices.
Corn on the cob. We're grilling two ears of corn for this recipe. Fresh corn right off the cob screams summer!
Bell peppers. I used red bell peppers, but you can use green, yellow or orange here.
Black beans. The black beans add a protein source to make these tacos hearty and satiating
Red cabbage. This adds a great freshness and crunch to our tacos. If you don't like cabbage, you could use lettuce.
Kimchi. I love the heat and funkiness that kimchi adds to these portobello mushroom tacos
Jalapeno. If you don't like spicy food, feel free to leave them off.
Cilantro. The perfect garnish for our vegan mushroom tacos.
Tortillas. Use your favorite! Flour, corn or another gluten-free tortilla variety would all be delicious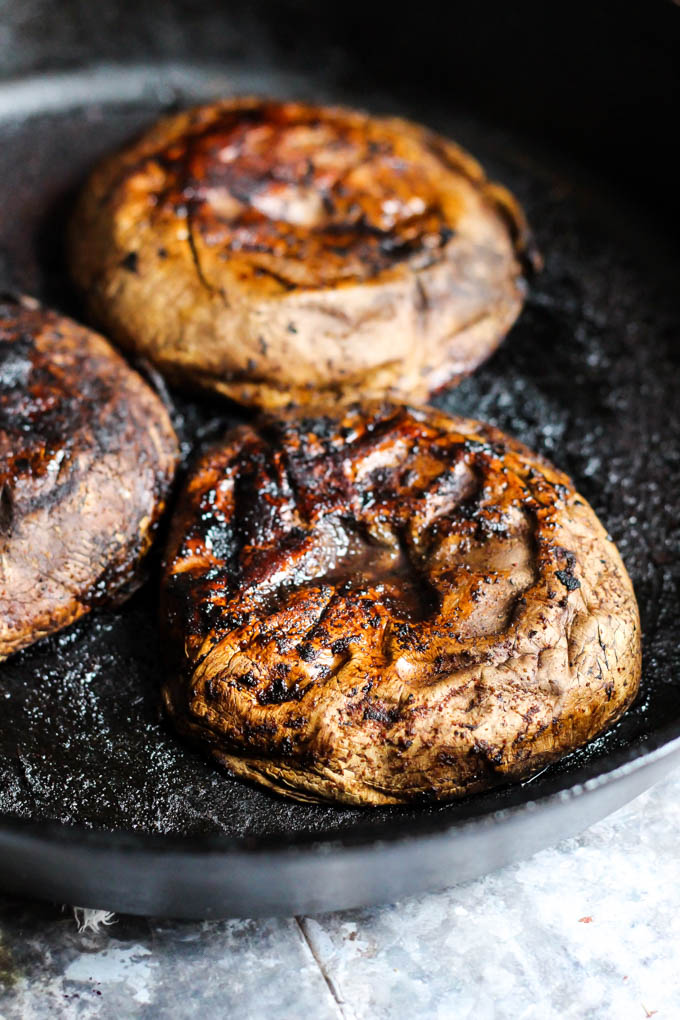 Portobello Mushroom Marinade
The *magic* in these tacos are the portobello mushrooms! Mushroom haters: listen up. You will love these because we're drenching them in a zesty balsamic marinade made with Pompeian Organic Balsamic Vinegar for maximum flavor.
The Organic Balsamic Vinegar is made with grapes picked at the ripest moment, so you know it's the good stuff.
Then we're also adding in lime for that zesty, summery brightness, plus the sugars in the lime juice will help our mushrooms caramelize. Finally, all of our spices go in the marinade.
Mushrooms behave in liquid similarly to a sponge. They will soak up whatever you put them in, so even just 15 minutes in a marinate means your portobello mushrooms are absorbing tons of flavor before they even hit the grill. We don't want to let them sit too much longer than 30 minutes though as they'll become to bogged down with marinade. When cooked, these portobello mushroom caps have a texture that is quite "meaty," if you will, which is perfect for a hearty, healthy taco filling!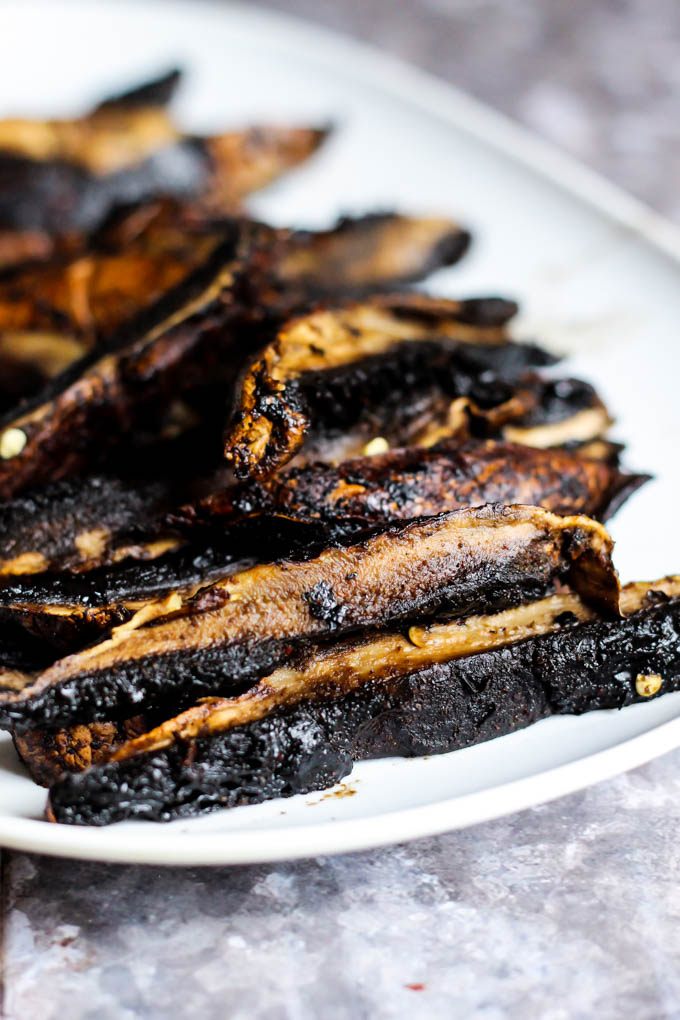 How to Grill Portobello Mushrooms
I love the smoky flavor you get when you cook vegetables on the grill. It's a flavor that instantly reminds me of summer. The flavors that develop from our portobello mushroom marinade really come to life when you get a good char on them.
Sometimes grilling can be a bit frustrating. Things stick, the heat can be hard to manage and sometimes the char marks don't turn out how you expected them to. Here are a few tips to make sure your grilled portobello mushrooms come out perfectly every time!
Oil your grates well before heating your grill. Mushrooms are super delicate so we want to make sure they don't stick.
Preheat your grill to 425F before adding the mushrooms to the grill. Adding them to hot grates will help minimize sticking.
Leave the mushrooms alone for a few minutes until they develop a nice char and start to caramelize. Constantly flipping will never give them the chance to develop grill marks.
If you don't have a grill, you can still totally make these grilled mushroom tacos! You can use a stovetop grill pan similarly to how you would on an outdoor grill. If you don't have a grill pan, I recommend using a cast iron skillet. Cast iron distributes heat really well and will help to really get that nice browning on your mushrooms. If you don't have a cast iron, you can use any skillet you have, but given the option I recommend anything but non-stick as you really won't achieve the same char.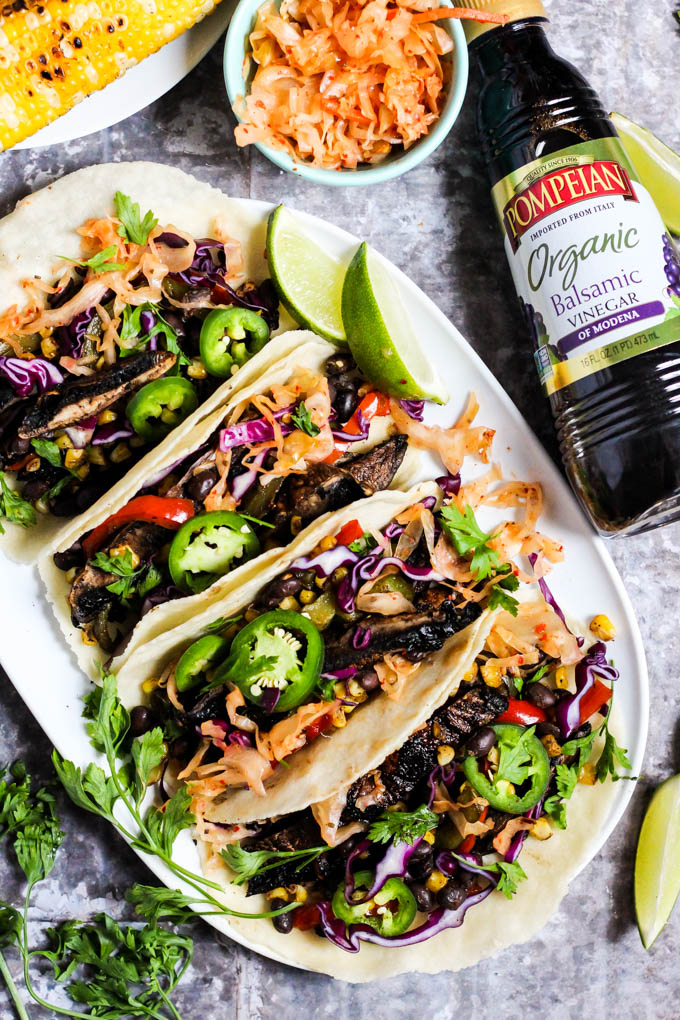 Toppings for Grilled Mushroom Tacos
One of the best parts about tacos is all the fun toppings. There are so many different directions you could take these mushroom tacos. Guac and salsa, fresh summery herbs and citrus, homemade vegan sour cream, chimichurri – the possibilities are endless. I went with Asian-inspired toppings, but feel free to get creative! Here's what I used:
Kimchi. This adds the best punch of spicy, tangy flavor to these portobello mushroom tacos. If you're not familiar with kimchi, it's Korean fermented vegetables, typically napa cabbage, that are spicy and oh-so-good for your gut bacteria, which are just some of the reasons why it's currently #TrendingInTheKitchen. Gotta get those probiotics wherever I can! If you're interested in trying to make your own at home, Pickled Plum has a great recipe for homemade vegan kimchi.
Cabbage. Whatever direction you want to take the flavors, cabbage always adds a very welcome crunch.
Jalapeno. I love a bit of a kick, and fresh jalapenos always do the job. Feel free to use pickled jalapenos instead or another pepper like fresnos or serranos.
Limes. A squeeze of a fresh lime wedge really takes things up a knotch.
Cilantro. If you're one of those people who think cilantro tastes like soap then leave it off, but it really finishes these mushroom tacos off nicely!
Other toppings that could be great on these vegan mushroom tacos would be sliced radishes, shredded carrots, a big ol' scoop of guac, or a healthy drizzle of hot sauce.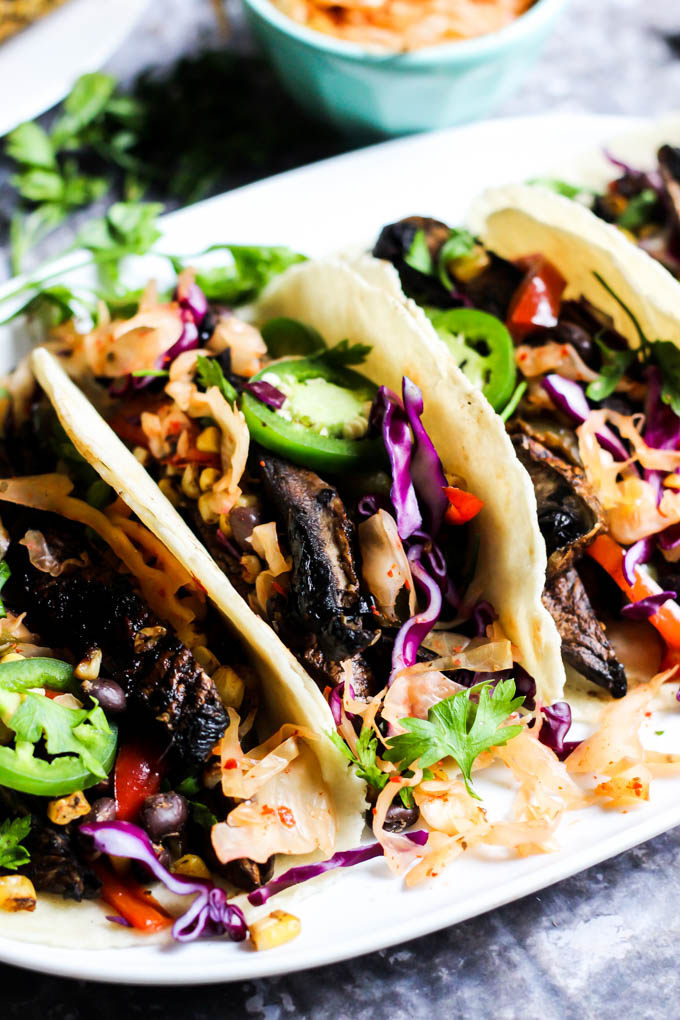 More Vegan Taco Recipes
I'm eating these mushroom tacos on repeat this week, and you totally should, too. No pressure. But…TACOS. How can you say no? Okay, okay so if you want to mix it up a little, I've still got you covered with plenty of other vegan taco recipes.
BBQ Jackfruit Tacos
Roasted Corn Tacos with Mango Slaw
Vegan Buffalo Cauliflower Tacos with Avocado Cilantro Sauce
Taco Style Veggie Dogs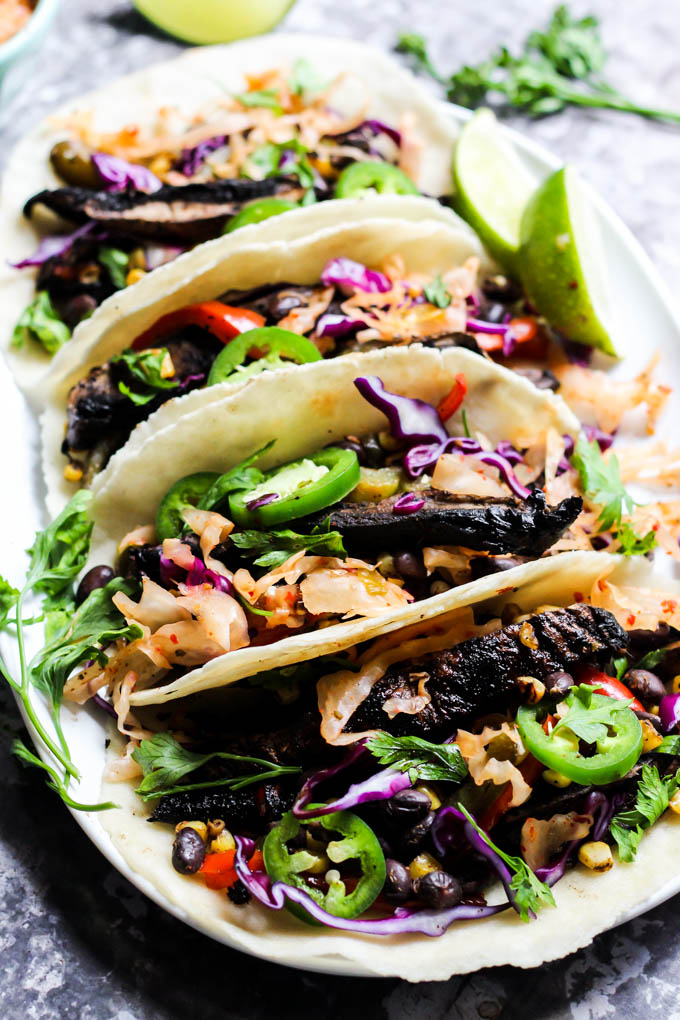 Print
How to make:
Grilled Portobello Mushroom Tacos
Your taco night needs these vegan portobello mushroom tacos. They're filled with grilled portobello mushrooms, corn, peppers & tons of flavor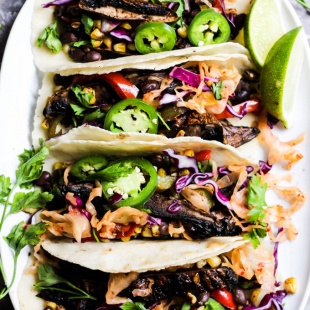 Ingredients
1/3 cup

Pompeian Organic Balsamic Vinegar

2

limes

1 teaspoon

chili powder

1 teaspoon

ground cumin

1/2 teaspoon

garlic powder

1/2 teaspoon

smoked paprika

1/2 teaspoon

salt

1/4 teaspoon

black pepper

3

portobello mushroom caps

2

ears corn

2

bell peppers, sliced

1

15-ounce can black beans, drained and rinsed

2 cups

red cabbage, thinly sliced

1 cup

kimchi

1

jalapeño, thinly sliced

2

limes, sliced into wedges

1 cup

fresh cilantro, chopped

8

–

12

corn or flour tortillas
Instructions
Preheat outdoor grill or a cast iron skillet over medium heat.
In a large bowl or plastic bag, add balsamic vinegar, juice of 1/2 lime, chili powder, cumin, garlic powder, paprika, salt and pepper; stir to combine.
Add portobello mushrooms; toss to coat mushrooms. Let them sit for at least 15 minutes, flipping and stirring the mushroom caps.
Remove corn husks. Using a grill pan, grill corn and bell peppers until browned, about 10-15 minutes. Rotate corn to brown on all sides. (If you don't have a grill, sauté peppers until tender and browned, about 10 minutes. Place corn on a baking sheet, broil for 5 minutes, flip, then broil for 5 more minutes.)
Place mushrooms on the grill, or a skillet. Cook for 10-15 minutes, until browned.
Add black beans, cabbage, and kimchi to individual bowls to prepare for serving.
When the vegetables are fully cooked, remove from grill or skillet. Slice mushrooms thinly. Cut corn off the cob. Place all vegetables on a serving plate.
Assemble your mushroom tacos by placing a tortilla on a plate and adding mushrooms, bell peppers, corn, black beans, cabbage, and kimchi. Top with jalapeño slices, a squeeze of remaining lime juice, and a sprinkle of cilantro.
2 tacos
398
11 g
467.5 mg
4.1 g
0.6 g
82.3 g
14.7 g
14.3 g
0 mg
Thanks to Pompeian for sponsoring this post! I love working with brands whose products I really love and would honestly recommend. Thank you for supporting this blog that I love oh-so-much!
The post Grilled Portobello Mushroom Tacos appeared first on Emilie Eats.
Comments
comments