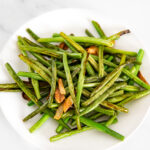 Garlic green beans, one of my favorite ways of eating green beans. A super simple and easy recipe made in 20 minutes with 4 ingredients.
I've always loved green beans. I really enjoy how they taste, as well as how nutritious they are. However, I felt like I always cooked them the same way and I decided to try something else, so I prepared some garlic green beans.
How can I tell you that I am absolutely OBSESSED with this easy green bean recipe?
Continue reading Garlic Green Beans at Simple Vegan Blog.
Comments
comments