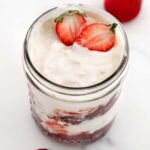 Coconut yogurt is my favorite kind of vegan yogurt! It is creamy, delicious, and super easy to prepare, as it only requires 2 ingredients.
I absolutely love vegan yogurt. It is a very versatile ingredient and you can have it plain or with your favorite toppings, as well as use it to make plenty of recipes! However, I wanted to make a soy-free version and I came up with this delicious coconut yogurt.
Continue reading Coconut Yogurt at Simple Vegan Blog.
Comments
comments