Save these 20 vegan smoothie recipes for your breakfast rotation and learn how to make a healthy smoothie that will keep you feeling satiated.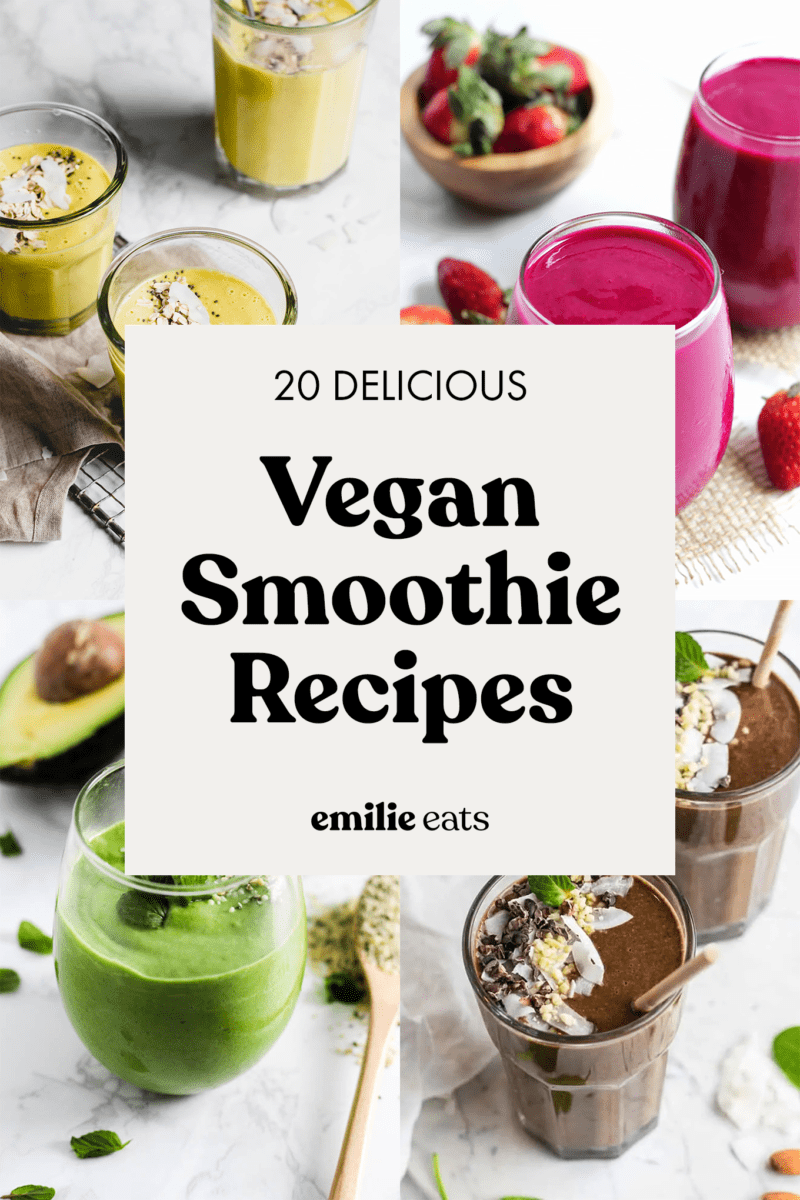 20 Vegan Smoothie Recipes You Have to Try
Anyone else find themselves having smoothies for breakfast on repeat all summer long? I know I'm not alone in that, and for good reason! You all know I love a good bowl of oats, but when it's super hot outside a big bowl of hot oats just doesn't hit the same. Nah, on those hot summer days, I'll trade in my oats for a smoothie eeeeeasy.
But anything on repeat gets boring after a while, no matter how much you love it. And it gets old even quicker when your breakfast smoothie just leaves you feeling hungry again an hour later.
So my friends, it's time to mix up your smoothie routine and start building better smoothies! Not only do I have 20 vegan smoothie recipes for you that you're gonna love, but I'm also sharing my tips on how to make a healthy smoothie that will actually leave you feeling satisfied. That way you can use what you've got on hand on any given morning and build a killer vegan smoothie without a recipe. So go grab your blenders and let's dig in!
How to Make a Healthy Smoothie
The key to learning how to make a healthy smoothie is finding balance! To build balance, we want to add more than just our favorite fruits to the blender. Now I'm not telling you to take any of your favorite fruits out of your smoothie! Instead of feeling like you have to cut down on fruit to make room for other ingredients (because you don't!) focus on what you can ADD IN. Here's how:
Start with your fruit and flavor cravings. Start with the fruit or flavor profile that you're craving and then add from there! Bananas, berries, mango, pineapple, peaches, you name it.
Add some veggies. Adding vegetables in addition to your fruit will help add more fiber, vitamins and minerals. Spinach, kale, romaine and celery make great additions for a green smoothie. Cauliflower is packed with minerals and won't add much flavor. Side note, if you're cooking a head of cauliflower or broccoli for dinner, chop up the stems, and throw them in the freezer to add into smoothies! You'll cut down on your food waste and have a go-to veggie for your smoothies!
Pick a protein. Sometimes you just don't want to add vanilla or chocolate protein powder into your smoothie, and there are plenty of other ways to add protein. Canned white beans or silken tofu will make your smoothie super creamy. Soy-based yogurts can be another way to add in some flavor. Nuts and seeds to double-duty in adding both protein and fat! Speaking of…
Don't forget healthy fats. Hemp seeds, chia seeds, flax seeds, nut butters, and the almighty avocado are all fair game. We get so many amazing vitamins in a big smoothie, but vitamins A, D, E and K are fat soluble so it's important to include a source in your smoothie.
Tropical Smoothie Recipes
Pina Colada Smoothie

Mango Mint Avocado Smoothie

Banana Cream Pie Smoothie Bowl

Pineapple Smoothie by A Couple Cooks

Golden Milk Mango Smoothie by From My Bowl
Green Smoothie Recipes
Banana Matcha Green Tea Smoothie 

Banana Mango Avocado Green Smoothie

Mango Ginger Kale Green Smoothie by Minimalist Baker

Get Your Greens in Smoothie by Ambitious Kitchen

Creamy Avocado Smoothie by Love and Lemons
Chocolate Smoothie Recipes
Mint Chocolate Chip Smoothie by Fraiche

Energizing Almond Joy Smoothie by Simply Quinoa

Vegan Chocolate Peanut Butter Smoothie by The Spruce Eats

Chocolate Cherry Smoothie by The Simple Veganista

Chocolate Banana Oat Smoothie by The First Mess
Berry Smoothie Recipes
Blueberry Mint Smoothie Bowl

Very Berry Beet Smoothie

Blackberry Green Smoothie by Kitchen Confidante

Peanut Butter and Jelly Smoothie Bowl by Pick Up Limes

Gingery Mango and Berry Smoothie by Minimalist Baker
The post 20 Vegan Smoothie Recipes You Have to Try appeared first on Emilie Eats.
Comments
comments